Inv #: 84703
---
1 - PREOWNED 2018 DORINGER MODEL D-350 DOUBLE MITER CIRCULAR COLD SAWING MACHINE, S/N: 27446/27448
---

---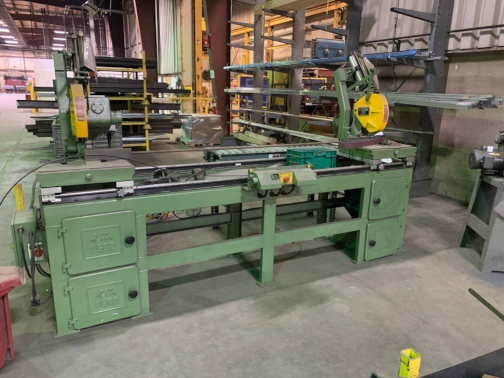 ---
SPECIFICATIONS
CUTTING CAPACITY  
ROUND TUBING -------------------- 4.75" 0 - 45°
SQUARE TUBING ------------------- 4" STRAIGHT
              ------------------- 3.6" - 45°
RECTANGULAR TUBING -------------- 6.3" X 2.75" STRAIGHT
                   -------------- 4.75" X 2.35"-45°
---
FEATURES
THE DORINGER MODEL D-350 DOUBLE MITER SAW IS A SEMI-AUTOMATIC 
COLD SAW DESIGNED FOR MAKING SIMULTANEOUS STRAIGHT AND/OR 
MITER CUTS ON SQUARE, RECTANGULAR, AND ROUND TUBING OR 
SOLIDS. THIS IS A DUAL-HAND CONTROL FOR BOTH SAW HEADS. THE 
DOUBLE PNEUMATIC VISES ON EACH SAW HEAD ARE ACTUATED 
AUTOMATICALLY. THE LEFT OR RIGHT SAW HEAD TRAVERSES FROM 120" 
TO 28". MACHINES ARE AVAILABLE WITH A SPRAY MIST OR RESERVOIR 
FLOOD COOLANT SYSTEM.
---
NOTE
SPECIFICATIONS SUBJECT TO VERIFICATION
---
INVESTMENT

---
TERMS
CASH WITH ORDER
---
DELIVERY
IMMEDIATE, SUBJECT TO PRIOR SALE
---
LOCATION
PDG
---
Machine specifications subject to verification.